Lady Pirates work to pave way to state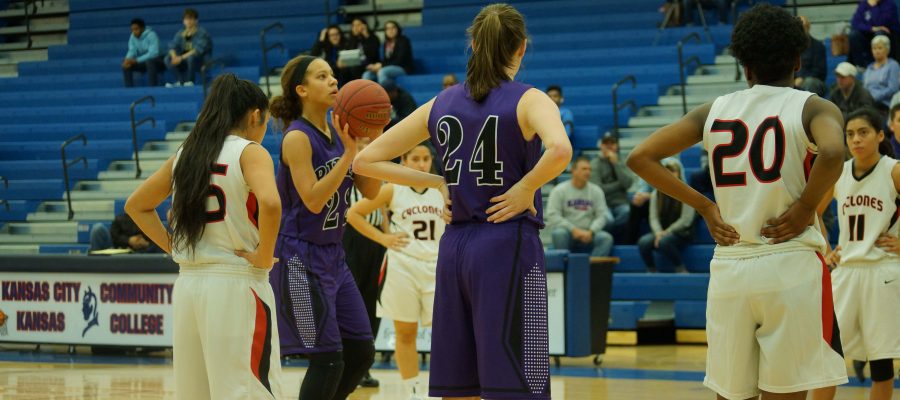 The girls' basketball team is ranked second in the Kansas Basketball Coaches Association's 4A-Div. I ranking. They are undefeated in the league with a 12-1 record when the newspaper went to press Jan. 31.
The team recently played in the Top Gun Tournament at Wellsville. The Lady Pirates beat rival Lansing 53-37 to take third in the tournament after losing to Spring Hill in the second round for a spot in the championship game.
The Lady Pirates' productive season includes wins against Ottawa, Bonner Springs, Bishop Ward, St. James Academy and Lansing.
"This season we've really worked on playing at our pace, being a team and having good chemistry," junior and varsity team member Patricia Thomas said.
Earlier in the season, the Lady Pirates took first at the Cardinal Invitational Tournament at Eudora. They beat Paola 59-55 to win the championship game.
The team's win in their first game against Ottawa set the tone for the season. They won the Dec. 2 game, 92-20.
"I think our first game of the season we came out with a lot of energy, which was good," Thomas said. "I also think that our game against Paola we played well, too, because we didn't give up and came out with a victory."
The Lady Pirates beat Paola, 59-55, Dec. 8 in double overtime.
"We have great individuals to start the game, but we have depth coming off the bench as well," Thomas said. "We all are quick, too, which helps with offense and defense."
"We are playing more as a team, and everyone gets along pretty well, which allows us to have fun," sophomore and JV team member Kayla Vest said.
Substate games begin March 3. Last year, the team lost the substate championship to Bishop Miege, 73-55, and missed a chance to go to state for the third consecutive year. This year, Piper hosts substate, and Bishop Miege is assigned to a different site, so if the two meet, it will be at state in Salina. Until the tournament loss last week, Piper had been ranked first in the state and Miege was second. Miege is now ranked first.
"There's always room to improve, so if we work on all aspects of the game then we should do well," Thomas said.
The next game is Feb. 3 versus Tonganoxie. Freshmen play at 7 p.m., JV plays at 4:15 p.m., and varsity plays at 5:45 p.m.