Brownback reviews mixed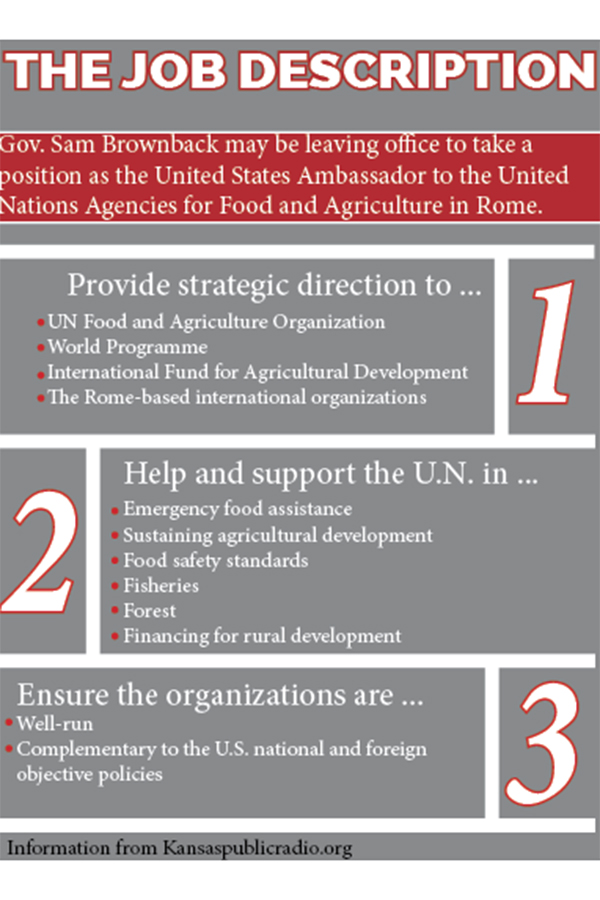 Surveys have shown that Gov. Sam Brownback has been unpopular within Kansas. As of April 2017, Brownback has had a 66 percent disapproval rating. Now he may be leaving the state. However, opinions differ on whether a change in administration will be positive or negative.
In early March, the Kansas Public Radio reported that an anonymous source had told them that Brownback had been offered a job as the U.S. Ambassador to the United Nations Agencies for Food and Agriculture. The job is in Rome.
Brownback and his office have kept quiet about the reports. They've only stated that he is focusing on the budget and developing a school funding system.
"I don't see the logic in it, that he can leave Kansas in a state of financial crisis and still move up the political ranks," junior Reiley Kirwan said.
Kansas currently has a $345 million budget hole.
Kirwan said she believes that Brownback has done poorly while in office.
"He has neglected to do what's best for our state and has instead done his best to help himself," Kirwan said.
She added that his leaving could create a new opportunity for Kansas.
Junior Kelsi Carmack feels differently. She believes that Brownback has done both good and bad for the state.
"He's good because he is good for Kansas, but he could have funded programs more," Carmack said.
She would like him to fund education and Planned Parenthood more.
Senior Brent Turner said that he also believes Brownback has done a good job. He added that he is fairly new to Kansas and didn't know much about Brownback and the political climate in general.
A teacher who wishes to remain anonymous has a different outlook on Brownback.
"He's horrible," the teacher said. "He's ruined public schools, and the sooner he leaves the better off the students of Kansas will be."
In 2015, Brownback cut $45 million in funding for education. Earlier this year, lawmakers tried to cut more from education, but the plan failed after low support and complaints from education activists. As of now, the Kansas Supreme Court has stated that the amount of funding for education is too low, and a solution is needed by a June deadline.
Kirwan agrees with the surveys that show Brownback as one of the most unpopular governors.
"I think that's sad," Kirwan said. "I would like the person representing our state to be someone supported by the public."
If Brownback decides to stay for the remainder of his term as governor, Kirwan said she would like him to get Kansas back on its feet financially. Carmack also would like Brownback to fund education more.
About the Contributors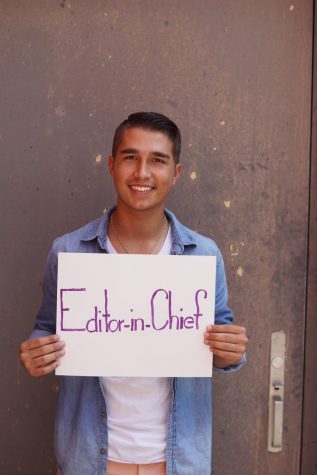 Isaia Wilcoxen, Editor-in-Chief
Isaia Wilcoxen is a senior at Piper High School and is Editor-in-chief for the Pirates' Log.
Wilcoxen is the president of Tri-M, co-leader of Prayer Warriors,...