Ladish puts on play for senior project
Hang on for a minute...we're trying to find some more stories you might like.
Since senior projects began it has been common for seniors interested in theater to direct a play. This school year, senior Scott Ladish is directing Playing Doctor by Billy Van Zandt and Jane Milmore, running from February 1-3. "Playing Doctor" is a comedy about a man and his friends pretending to run a clinic in order to convince the man's parents that he went to college to become a doctor when in actuality he became a writer.
"I chose this play because it's a comedy, which are my favorite plays to watch," Ladish said.
To make this play happen, Ladish selected eight cast members and eight crew members. Out of his eight person cast there are four seniors, one junior, two sophomores and one freshman. Ellie Vaughan, the only freshman on the cast, said it is exciting but nerve racking.
"It can be stressful because everyone has had more experience with it than I have," Vaughan said, "so it takes a lot of work to make sure that I'm living up to their standards."
As the director of this play, Ladish's job is not only to direct, but also to design the set and the costumes. This is Ladish's eighth show so he has a significant amount of experience in both acting and set building, but the pressure is still present.
"My stress level is through the roof," Ladish said. "Ms. Denault warned me of this, and I knew it going in that it would be stressful."
Despite the short time frame, Ladish believes the rehearsals and set building are going pretty well.
"We're under a shorter time constraint than other plays," Ladish said, "and I've been pushing my cast and crew extremely hard and they have been giving their best every day."
Ladish's stage manager, senior Bailey Spencer, has been working side by side with Ladish in order to make his set ideas come to life.
"The set is designed to look like the living room of a New York apartment." Ladish said. "The living room is where the entire story takes place, but there are other entrances and exits to finish the entire illusion that there's more than just a living room in this show."
Spencer has been working behind the scenes in three musicals and four plays making "Playing Doctor" her eighth production.
"With the time constraints building the set can be challenging," Spencer said. "But with Scott having a game plan coming into it, it is easier."
It's not unusual for senior project plays to be overlooked by others, resulting in a smaller crowd and a messier auditorium due to lack of respect from other events.
"Senior plays are definitely overlooked. Many people don't look at them as an actual school production because a student is running it," Ladish said. "The auditorium is not respected in the same manner that it would be for a show like a musical. Other groups or activities leave things on the stage or in the seats that are in the way of my actors, and then become my problem for me to get rid of."
Although they are overlooked, this does not mean any less work is put in, or that they are any less enjoyable.
"It is nice to see Scott step up and try to make this performance one of the best this school has ever seen," senior cast member Alena Riley said. "People should come see this show because it is extremely funny, honestly, one of the funniest plays I've been."
"To me, senior plays are fun to watch and impowereing to others." Spencer said. "Seeing someone your age direct a show for the first time is enlightening and empowering. It's really cool to see all of it come together and encapsulate the audience."
"People should come see it because it is meant to entertain people and give them something to lift up their spirits with an evening of laughter," Ladish said.

About the Writer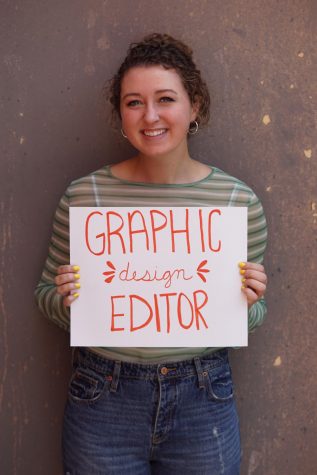 Grace Haworth, Graphic Design Editor
Grace Haworth is Graphic Design Editor on her second year on staff and is a senior at Piper High School. She plays on varsity softball and varsity bowling...