Stephen King's memoir is no less thrilling than his novels
Hang on for a minute...we're trying to find some more stories you might like.
Best known for his spine-tingling, often graphic horror stories, Stephen King is one of the world's most popular authors. Under his influence, a bump in the night can be transformed into something far more sinister than a robber or even the average killer. He has made millions through the sales of his novels and short stories, many of which have at one time topped the New York Times bestsellers list or won prestigious awards. In his book "On Writing: A Memoir of the Craft," King recounts his journey to success and advises aspiring writers in a way that is both helpful and true to the voice developed in his other works.
Spliced with his own beliefs about what writing should entail, King describes his struggle to find a publisher, the difficulties that he encounters while writing and the kind of support system that a writer requires. Instead of creating an overpowering sense of opinion or of dry instruction, King is able to find a halfway point between the two. He also reviews the writing and editing process for several of his books, including the first one he ever published, "Carrie." Alternating between encouraging and brutal, King's memoir is written in much the same style as his fiction.
What is different about King's book from others in the same "self-help" category on writing is the honesty. There are no gimmicks, no shortcuts. King's chief recommendation is simple: lots and lots of hard work. While he covers grammar, style, writing habits, environment, revising and publishing as well, this core belief shapes the entire work, making its way into every section. King doesn't attempt to convince the reader that any part of the process will be easy, but instead asserts over and over again that talent means nothing if a person is not willing to put in the effort.
There's a refreshing sense of humor present as King describes his own experiences and issues advice based off of them. King presents himself not as the ultimate authority on writing, but as a practitioner of the craft who has acquired some knowledge worth sharing. This allows him to turn around and laugh at his own mistakes, letting the reader in on what feels like an inside joke. In this, he makes reading a book that would normally feel more like work or research into an entertaining yet informative experience. Although King's personal style may not apply to every writer, his tips encompass an area wide enough to make readers comfortable taking his advice, as they leave plenty of room for individual interpretation.
For me, one of the biggest takeaways from "On Writing" is the importance of a character-driven story, which applies not only to novelists but to journalists as well. The award-winning stories, whether fact or fiction, are almost always centered around people and their struggles. It's what makes a work, no matter how far-fetched, relatable to its audience. King argues that part of creating a realistic character is not backing away from the crudeness of reality. His fiction faces less favorable aspects of humanity head-on, and perhaps this is what has made him such a successful writer.
This book is perfect for anyone who is serious enough about writing to not get their feelings hurt when it is suggested that their current approach won't work. While I found this book helpful as an aspiring author and journalist, it could also be of assistance to anyone who finds themselves struggling to piece together an interesting essay or story for a class project. The range of applications for good writing has no bounds, as King is quick to point out.
About the Writer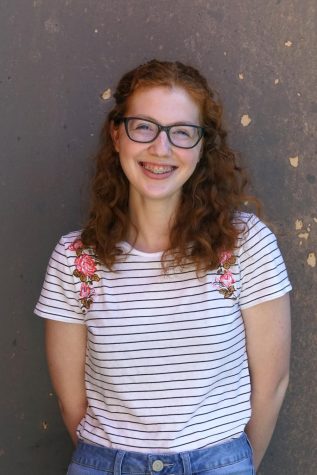 Lauren Textor, Editor-In-Chief
Lauren Textor is a senior at Piper High School and this is her fifth semester on staff as Co Editor-in-Chief. She participates in Key Club, Scholars Bowl,...