Junior carries on family football tradition
In the Beebe family, football is a tradition, a culture and something that they love to do. Junior Cooper Beebe has carried on the football tradition in his family by working hard on and off the field.
Cooper is the second youngest of four boys, all of whom play or have played football. His oldest brother, Colton Beebe, is currently a tight end at the University of Minnesota and the second oldest, Collin Beebe, was a Kansas All-Star in football during high school.
This past football season was arguably Cooper's best, helping an undermanned team progress through the season. In doing so, he happened to impress quite a few scouts. Beebe picked up offers from the University of Kansas, Kansas State University and the University of Minnesota. Cooper has also played for the USA football team the past couple of seasons, getting him more attention from scouts.
There are multiple other Division I schools keeping an eye on the currently 3-star rated defensive tackle, and it can be expected that a lot of them will be calling in the fall.
Beebe and his teammates will be playing under a new coach next season after coach Chris Brindle stepped down after six seasons as head coach. Taking his place is Mill Valley offensive coordinator Rick Pollard.
Along with the new coach, the team will be joining a new league next school year, making the switch from the Kaw Valley League to the Frontier League, joined by Tonganoxie and Bonner Springs.
"I look forward to the change the program will see," Beebe said. "I think that coach Pollard will take us from an average team to one of the best in the Frontier League."
When Division  I scouts are at every game, the pressure can easily take control of a player's mentality, but Beebe said that he uses the pressure as motivation to work harder and be the best he can be.
"I think what motivates me most, though, is competing to be the best in the league and going to state," he said. "I really want to hold that state title up before I leave here. That has always been a dream of mine."
When No. 70 takes the field this fall for his final high school season, it is guaranteed he's coming to play and ready to fight for his teammates, his family and the Pirate Nation.
About the Contributor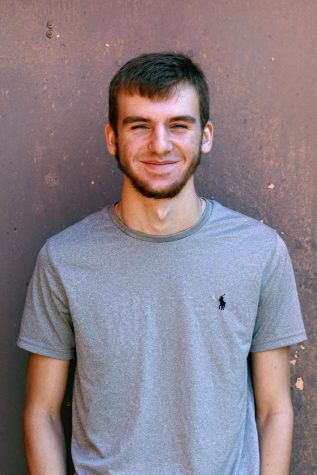 Charles Connor, Sports Editor
Charles Connor is a senior at Piper High School and this is his second semester on staff as Sports Editor.