Theater department performs spring play
The spring play, The Radium Girls, begins at 7 p.m. Thur., April 26 through Fri., April 27 and costs $5 for students and $7 for adults.
Radium Girls is about the female factory workers who contracted radiation poisoning from painting with the radioactive paint during World War II.
"It's based on a true story about these girls that worked at a radium plant and they all start dying of radium poisoning," sophomore Aylea Cole said. "It's about the whole legal process of that."
Sophomore Trent Smith said this play is a different experience from the rest of the productions he has been in.
"The fact that it's a drama and not a comedy leaves a lot of room for more dramatic interpretation with actors," Smith said.
This year, the theatre department chose to take a different route when it came to the set of the play. Instead of building different sets for each scene, they will be using a projector to display multiple backgrounds.
Smith said the projection provides them with more options for more changes and elaborate scenes.
"Her idea was that with the slideshow we could have a lot more choices to work with when it comes to backgrounding," Smith said.
Actors also sometimes sit in chairs on the side of the stage when waiting for their next act.
"I remember her saying that us sitting in the chairs it all represents how the world just kind of watched all this happen when it did," Smith said.
About the Writer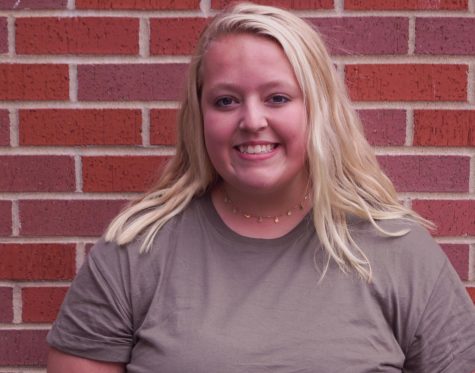 Megan Neal, Print Editor
Megan Neal is a senior at Piper High School. This is her third year on staff and is her first as print editor. Neal participates in Music-n-Motion, and...