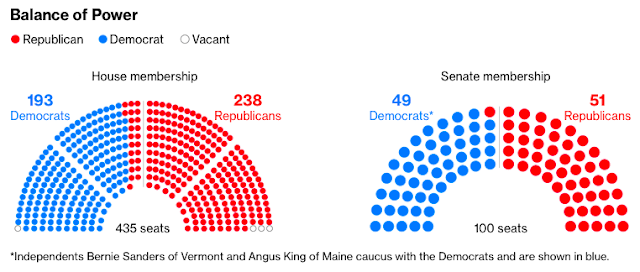 Democrats flip the majority of votes in the U.S. House
The midterms of 2018 was filled with unexpected results and changes that have never been seen before. This year, the Democratic party flipped the majority of votes in the United States House after the majority being in the hands of Republicans for the last eight years.

"A house flip is when the party that has majority in the United States House (one of the two sections of congress) changes," junior Andrew Flory said. "Before the midterms, Republicans held a majority in both the house and the senate, but now Democrats will have a majority in the house."
In order for a party to be considered having the majority of votes, they must have 218 voters in favor of the party. The Democratic party surpassed this by winning 233 to the 199 voters for Republicans.
Flory said the house flip could have happened for a majority of reasons, such as the increase in young voter activity seen in this election.
"There were more young voters this year than ever before in most parts of the country," Flory said. "Young people often tend to be liberals and as such, most voted for Democratic candidates."
Along with this, Flory believes that the debate over President Donald Trump's popularity played a key role.
"Some of his more extreme policies (such as separating families at the border and putting the children in camps), combined with his extremely divisive anti-immigrant and islamophobic rhetoric make people want to vote against him and his party," Flory said. "Many moderates were uncomfortable with Trump's hardline policies and likely voted for democratic candidates because they wanted a congress that could block his agenda."
Government teacher Daryl Graham agreed with Flory that many people are unhappy with some of Trump's policies.
"I believe this house flip is considered a rebuke of Donald Trump and the Republican party," Graham said. "Citizens are not happy with Trump and his policies, especially his attitude towards immigrants and minorities. Voters are not happy with Republicans throughout every level of government because of the conservative attempt to gut Obamacare and allowing insurance companies to deny coverage to people with pre-existing conditions."
Flory said that now that the house has flipped, the Democratic party will be able to have more control.
"Democrats will be much more capable of blocking Trump's agenda," Flory said. "This can manifest in things such as preventing funding for a border wall, preventing the escalation of a trade war, and blocking other policy measures that they don't find favorable."
Graham said that with the new power Democrats have, they will be able to replace conservative ideas with liberal ones.
"At the top of the Democratic Party agenda will be getting laws passed to protect voting rights for millions of Americans, ending the practice of gerrymandering, protecting entitlement programs, protecting the working and middle class through tax fairness and serving as a check to the president by using their oversight powers to investigate any possible illegal activities by him and his administration," Graham said.
Flory said he followed this election closely  because he believes it was one of the most important midterms he will experience. Many candidates running represented new communities that have not been seen in politics before.
"There were many candidates running who, if they won, would represent massive shifts in their communities," Flory said. "We elected Democrat Sharice Davids, who's the first openly gay Native American to serve in the senate. She's also the first democrat to win a Kansas senate seat in a long time."
Both Graham and Flory agreed that most of the results went as expected, as most political analysts predicted a house flip in favor of the Democratic party, however both were surprised by the new diversity being elected in government.
"I was extremely surprised that Sharice Davids (Senator) and Laura Kelly (Governor) won, because Kansas doesn't normally elect Democrats," Flory said.
Graham agreed with the positive benefits he believes will occur from the flip.
"For the first time ever, there will be over 100 women serving in Congress," Graham said. "This is an awesome thing for our representative democracy."