Hoping to suppress anxiety, teens look to drugs to self-medicate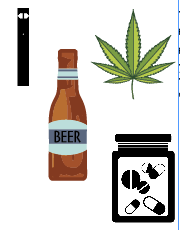 *Names have been changed due to source requests for anonymity.
Drug usage among teens is up to 50 percent, according to a 2017 survey by Project Brand. Psychologists say this is due to high levels of stress and anxiety, as teens are using substances to numb their pain, which then leads to addiction.
One developing problem within high schools is vaping, which is highly addictive due to the high amounts of nicotine consumed. According to a 2017 survey by National Youth Tobacco, 11.7 percent of high schoolers vape in comparison to 1.5 percent in 2011. Popularity has risen due to easy availability.
"I'm 18, so I can legally buy it, but you could get one from anybody if you are underage," senior Jared Johnson said.
High schoolers mainly come upon these substances by way of older friends. Vaping and alcohol are prime examples. If someone is of legal age, they can buy the substance and give it to someone underage.
Another commonly abused substance is marijuana. Marijuana is proven to affect short term memory and other cognitive functions. Although it is not highly addictive, it is still habit-forming.
Many people who smoke marijuana do it whenever and wherever they can.
"I smoke weed from my car, house and any place I can away from people," sophomore Benny Baxton* said.
While marijuana usage is on the rise, the most abused substance is still alcohol. According to the Substance Abuse and Mental Health Services Administration, it is involved in three out of four substance abuse cases.
"This substance has definitely showed a different part of myself," sophomore Delilah Dawson said. "It numbs me and makes me feel like a person who can conquer a lot more than my sober self."
According to DrugFree.org, teens are using drugs to self-medicate for stress and anxiety.
"Nicotine gives me this lightheaded, peaceful feeling for a short time and is relaxing, cannabis gives me a numbing feeling that relaxes a lot of emotions, all while making me either happy or sleepy," Baxton said.
Some people drink, smoke or take pills for fun while they are hanging out with friends, but others use it as an escape.
"I still continue to abuse substances honestly, because it's the easiest way to escape a lot of the pain," Dawson said. "I started mainly because a lot of my friends around me were doing it, so I thought if I joined it would make me look cool, too."
Another issue surrounding substance abuse is parental use. Some people start using a substance because their parents use it, and it creates a cycle of unhealthy substance abuse.
"Both of my parents smoke and my sister used to, but she quit," Johnson said.
Addiction can hurt not only those who are suffering from it, but also the people around them.
"I know a couple people with bad addictions to nicotine, and some people who are mentally addicted to cannabis," sophomore Andy Kelopolis* said. "I would hope they would stop, because I don't want anyone to be hurt."
About the Photographer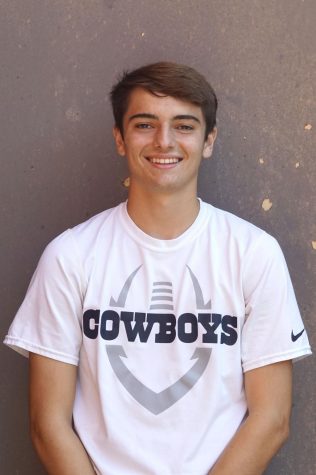 Trey Trumbo, Staff Writer
Trey Trumbo is a senior at Piper High School and this is his third semester on staff. He participates in soccer and is the third Jack Trumbo.