New teacher brings changes to senior project
Hang on for a minute...we're trying to find some more stories you might like.
Every year, the senior class is required to work on a year-long project about a potential career. This year, it's a bit different.
Cohorts will be used for the first time during presentations.
"So cohorts are students with the same type of project that will be in the same room during presentations," English teacher Taylor Weitner said.
Weitner plans on having up to eight students in a cohort, depending on the students' career choice. Some students like the idea of cohorts and the effect they will have on their presentations.
"It will be nice that we will be able to bounce ideas off of our presentation, but I think it'll be a little more terrifying knowing there will be more people in the room," senior Brock Beashore said.
Before this year, seniors have worked on senior projects individually and have then presented their projects individually to a set number of judges.
"I am excited that they will be there to comfort and support me during the time of my presentation, but the only aspect I do not necessarily like about it is how it may affect on how I present. One person may perform before me that is absolutely stellar, and it could make me get into my mind that I am not good enough," senior Drew Novak said.
The judges of senior project will be people who have knowledge of the fields that students have chosen. Students will have 15 minutes to  enter the room, greet the judges, present and they will finish by exit the room to allow the next student to begin theirs.
"I like the fact that is is shorter, which is nice, but the judges being like more well versed in our field will be a little more nerve wracking because we need to make out information more accurate," Beashore said.
The last change is in format. Instead of creating a paper presentation for the judges, students will create a Google Site containing all of the work done by students.
"I would not say that they would dramatically affect my efforts, but it does give me more time to think and do much more than if I were to do this project last year," Novak said.
Students will need to learn how to adapt to these new changes for their senior project throughout the year.
"I just took the ideas and changed it a little bit,"  Weitner said. "I thought it was time for a change and I wanted to make it more electronic."
About the Contributors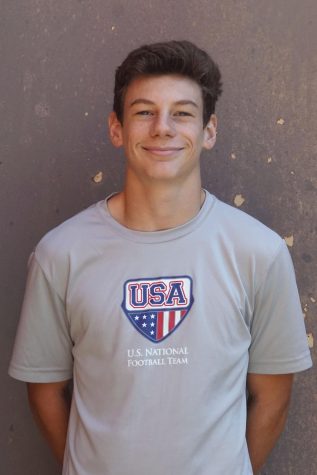 Kaleb Brown, Co-Web Editor
Kaleb Brown is a senior at Piper High School and this is his second semester on staff as Co-Web Editor. Brown plays football and goes by KB, Pablo or lilbrown.
Hannah Pappert, Photo Editor
Hannah Pappert is a senior at Piper High School and is on her third year on staff as Photo Editor. Pappert participates in softball and has a dog that...