Popeyes, Chick-fil-A battle for best chicken sandwich
Kenny Brown
Popeyes sent the internet into a frenzy when they released a chicken sandwich similar to that of Chick-Fil-A on August 12, 2019.
"Popeyes was honestly a last resort for me until they released their chicken sandwich," said senior Kaulon Eason.
The release of the sandwich prompted the debate on which sandwich is better.
Someone who continues to be team Chick-fil-a is Justin Richmond. Richmond's favorite food at Chick-fil-a is the spicy chicken sandwich and maintains that Chick-fil-a is supreme.
"I have had the popeyes chicken sandwich, I had two of them, and I would say that it is slightly overrated," said Richmond, "It tastes like a chicken sandwich, but the biggest difference is that the breading of the Chick-fil-a sandwich gives it its flavor, there is like sauce on the Popeyes sandwich that gives it its flavor, and I think that's cheating, and it's not even that good."
Richmond prefers the Chick-fil-a sandwich by far.
"The flavor is in the bread of the Chick-fil-a sandwich, and you don't even need the sauce because the way its breaded is the flavor, It's unmatched," said Richmond.
Others rave about the Popeyes sandwich and believe it is much better. One of these people is senior J'marion Frazier.
"The bread is better, the chicken is seasoned better, it just takes so good," said Frazier.
Frazier said that eating the sandwich makes you feel things.
"I feel loved when I have that popeyes chicken sandwich."
To the dismay of many, the chicken sandwich was removed from the Popeyes menu on August 27.
The introduction of the Popeyes sandwich was a bit of a shock to the workers at Chick-fil-a. One Chick-fil-a employee is junior Aiden Price.
Price believes that the hype around the Popeyes sandwich is unnecessary and that Chick-fil-a is better.
"Popeyes is overrated, the Popeyes sandwich is good, but the Chick-fil-a sandwich is the original," said Price
About the Contributor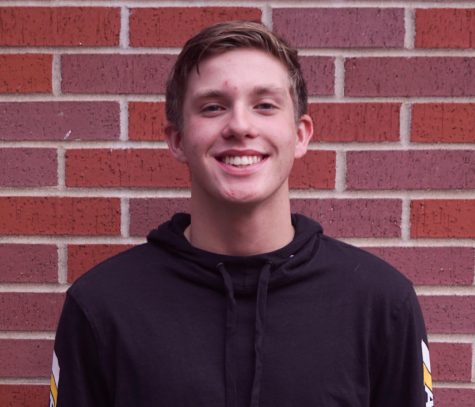 Blake Beashore, Web Editor
Blake Beashore is junior at Piper High school and this is his second year on staff. This year Beashore is the web editor. Beashore participates in Key...