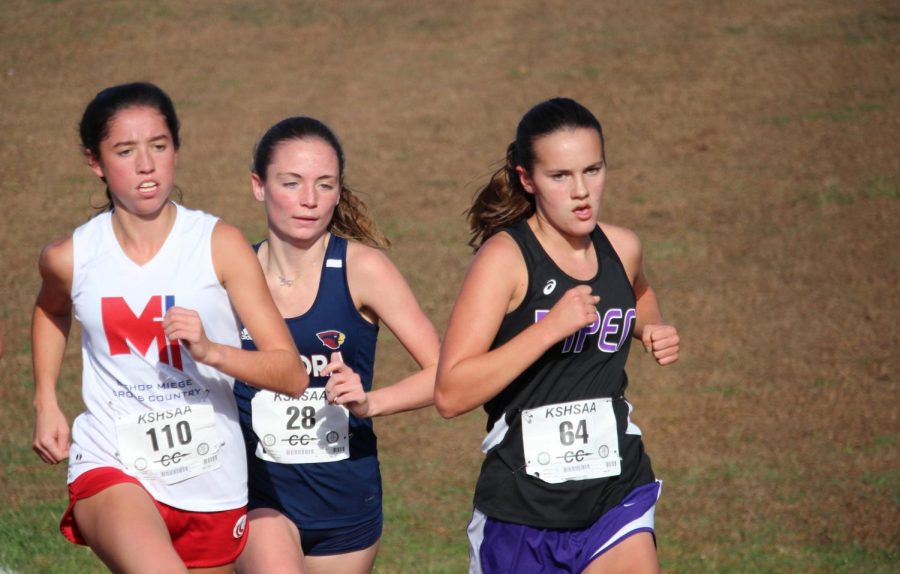 Courtesy of Hannah Brown
Five runners from the Piper cross country team participated in the state meet at Wamego on Nov. 2, 2019.
For the girls, freshman Grace Hanson ran a 19:31.01 for second place, and freshmen Alexis Simpson finished with a 21:32.31.
For the boys, senior Owen Roellchen ran a 16:54.66 for sixth place. Junior Davis Capps ran an 18:26.38, and sophomore Grant Lockwood ran an 18:32.08.
This season the team earned their first team award in over 10 years. On September 25, the boys and girls team each took third place at the Tonganoxie Invitational.
For runners moving up from the middle school, this season saw a new change that took some time getting used to, as the runners had to run an extra mile.
"At the beginning, I was really struggling with getting adjusted to the extra mile, but I figured it out and got better with my endurance and mental toughness throughout the season," Hanson said.
Throughout the season, many runners' love for the sport grew.
"After running so much, you almost have to love it. I started running before freshman year, and have loved it ever since," said Junior Chase Ward. "I'm ready for next year and hoping to beat my personal record."
Before the pirates went to state, they had a strong performance at regionals.
"I was pretty confident coming in since I won three straight races before, and I'd run against these people before. So,
I was ready," Roellchen said. "Before the race, I always make sure I'm rested and hydrated."
Regionals were run on October 26 at Baldwin Highschool.
Grace Hanson ran a 19:15.27 for first place and Lexie Simpson ran a 20:49.63 for 11th place.
For the boys, senior Owen Roellchen ran a 16:57.13 for first place. Junior Davis Capps ran a 17:49.17 for seventh place, and sophomore Grant Lockwood ran a 17:53.85 for ninth place.
There were also personal records broken by sophomore Ian Heid and junior Sara Lake, who each beat their PR by over a minute.
Also running in regionals was senior Jacob Stubler, junior Chase Ward, sophomore Alana Textor, freshman Tatum Vallejo, junior Lainey Sorenson, and freshman Deana Jones.
The runners are already looking forward to next year after strong finishes by many runners to end the season.
"We want to keep getting better personal records and do the same thing as this past year. Now we know the courses," Hanson said.