District finds disappointment in outcome of Baldwin investigation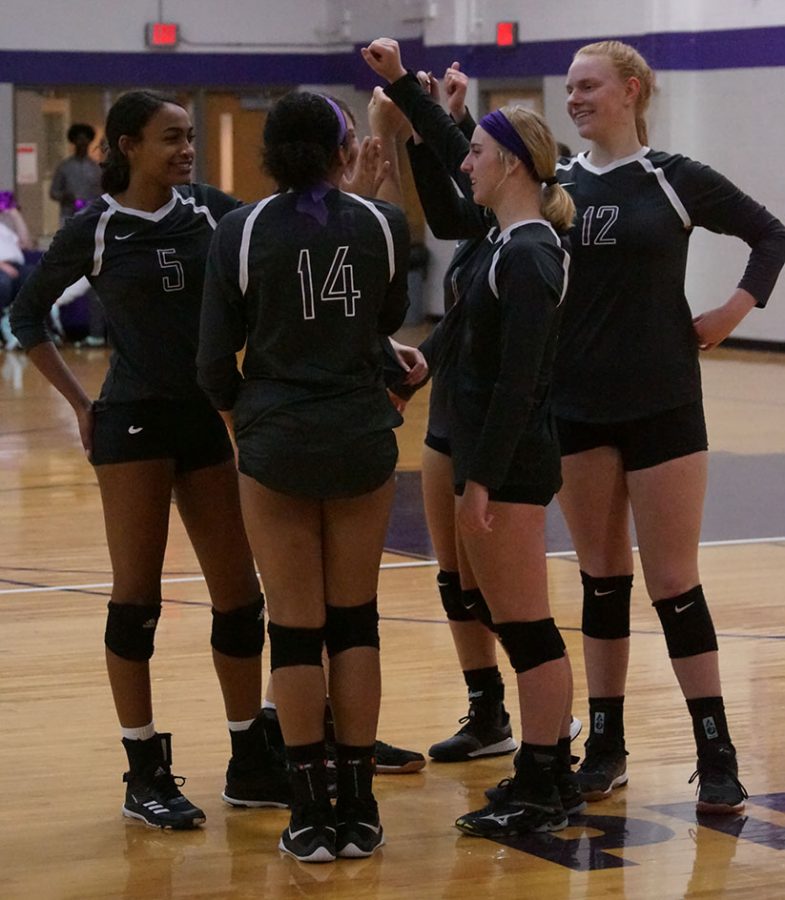 Baldwin High School released a statement following an independent investigation about the racial incident that occurred at the volleyball game at Baldwin High School on Oct. 8.
The investigation included 20 written statements from Baldwin students at the game, 13 written statements from Baldwin staff and parents at the game, four written statements from individuals working the game, and 12 in-person interviews, which included three Piper students and their guardians.
Using these statements and camera footage the investigator concluded that there was no evidence to conclude that the Baldwin student section created racially charged chants or noises during or after the game.
Following the investigation, many were left wondering if the investigation was thorough enough.
"I don't feel like there was enough put into it, because I don't think that all of the girls on our team would just make stuff up and just say it," said junior Kinley Brown. "There were adults that saw and heard the same stuff that the girls did."
Senior Kaylin Miller was one of the students interviewed by the investigator.
"You can't get the whole story without talking to everybody," Miller said. "There should have been more effort into finding out what actually happened on our side. They put a whole bunch of effort on their side and all they got was lies."
Activity Director Doug Key agrees with Brown and Miller.
"It takes into account for one side, I think just contacting the three kiddos here probably didn't help. I think they need to look into more," Key said.
While they declined to co-sponsor the investigation, Piper offered the investigators access to all of the players and coaches involved in the incident.
"Mr. Nguyen offered to take us out of class as well as our head coach, and the investigator said that he didn't need to," Miller said.
Brown agrees that with the resources offered to the investigation, that more should have been done.
"They should have talked to more of my teammates and more parents that were involved. They only asked a couple of people from our school, and there were a lot of people that were involved," Brown said.
Following Baldwin issuing their statement, Piper Superintendent Blaine McCann issued a response.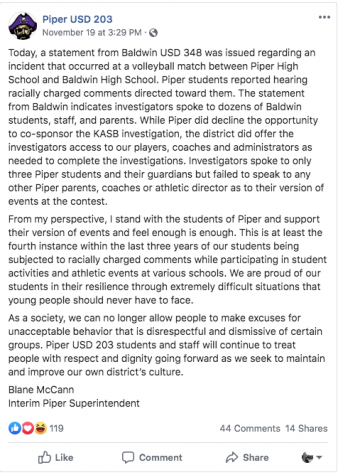 "From my perspective, I stand with the students of Piper and support their version of events and feel enough is enough. This is at least the fourth instance within the last three years of our students being subjected to racially charged comments while participating in student activities and athletic events at various schools. We are proud of our students in their resilience through extremely difficult situations that young people should never have to face," McCann said.
From this point, Key is looking to the future.
"We move forward, that's what we're going to do, our kids handled it great," Key said. "I thought when our student council went there they did a great job. When we played them in soccer the next week, and when we played them in volleyball again. Our kids are resilient.
With the incident being heavily covered by local news, Key was proud of the way the community handled the situation.
"They were hurt, and I'm hurt too, but it's one of those things where we can't let it get the best of us, and I thought our kids stepped up to the plate," Key said. "I thought our community stepped up to the plate, and it's not what we want to happen, and hopefully it doesn't happen again."
Principal John Nguyen was hopeful about where the administration goes from here.
"Our emphasis has to be on what we can do to care for and support our students, how we help them learn and grow from a very ugly situation that shouldn't have happened, but it did. We can't face the way that we move forward on how others handle their situation," Nguyen said. "So with that, we're going to support our students, and provide the best opportunities and experiences for them."
Key hopes that Piper continues to move forward stronger from racially charged situations.
"Hopefully, we don't have them anymore. Hopefully, we continue to educate our kids and our coaches and the rest of us," Key said. "We've got to win, because people go low, and we stay high, and that's the way it's got to be. We move forward."
About the Writer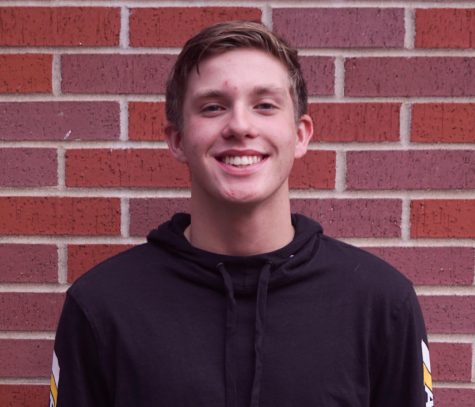 Blake Beashore, Web Editor
Blake Beashore is junior at Piper High school and this is his second year on staff. This year Beashore is the web editor. Beashore participates in Key...