Working Overtime: Cheerleaders take on role in musical, participate at state cheer
Cheerleaders prepared themselves for a long day of Cheer State and the school musical "Hairspray". Knowing it was going to be an exhausting day, they prepared for it by drinking tons of water, mentally preparing and getting a good night's sleep. 
Junior Taylor Sims knew she needed to prepare her vocals for the weekend. 
"I had to prepare my vocal cords for all the yelling and singing. I drank tons of warm tea and water," Sims said. "My mindset was that this particular weekend was going to be draining and I made sure I properly paced myself throughout the day, so I didn't super overwhelmed." 
Despite advice given to Sims by her friends to be in bed by nine p.m., the anticipation of the next day kept her awake. 
"It was impossible for me to go to bed early because the musical wasn't over yet, so I felt like I wasn't as rested or prepared as everyone else," Sims said. "When we got to state and started to warm up, I felt super energized then."
Sophomore Delaney Waters knew the day would be exhausting, but a day to remember. 
"I woke up at 5:15 a.m., put on my uniform, got ready and did my hair and makeup. I got to the school at 5:55 a.m. and got on the bus. We got to Topeka around 7 a.m. and we got ready to compete," Waters said. "It was so difficult doing the musical after state, I was so worn out and tired, but once I got on stage, I got my energy back." 
In the midst of all the craziness, senior Emma Turley lost her voice. 
"I'm pretty used to being exhausted since it was my third year doing both at once, but the hardest part was losing my voice before the show," Turley said. "My voice was the biggest difficulty, I had to yell all day for cheer and sing all night for the musical. It was pretty rough, but I got through it and had a blast."
Despite Turley's experience, she still had nerves going into the day. However, Turley said she felt mentally prepared. 
"When we made it to finals, I knew it was going to be my last time on that state mat and the stage for the musical, so I was pretty nervous," Turley said. 
Although the results from cheer were not what the team was hoping for, the students participating in both activities knew they couldn't let this change their energy for the musical. 
"As we took the third place trophy, my feelings were in a weird place, no it's not what I wanted, but I had to realize that my day wasn't over yet," Sims said. "I was drained the whole way home, but when I got onstage for 'Good Morning Baltimore' all those feelings fairly changed. Doing those dances and singing those songs for the last time, really made me have a good time." 
About the Contributors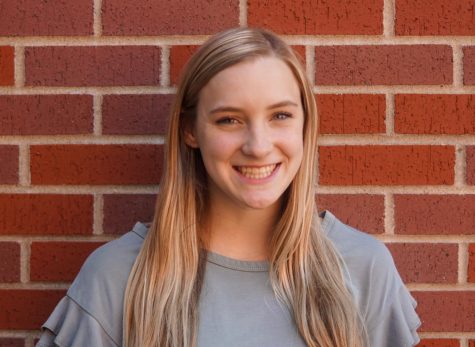 Morgan Haworth, Print Editor
Morgan Haworth is a senior at Piper High School and she has been on staff for two and a half years. This year Haworth is the Print Editor. Haworth has...