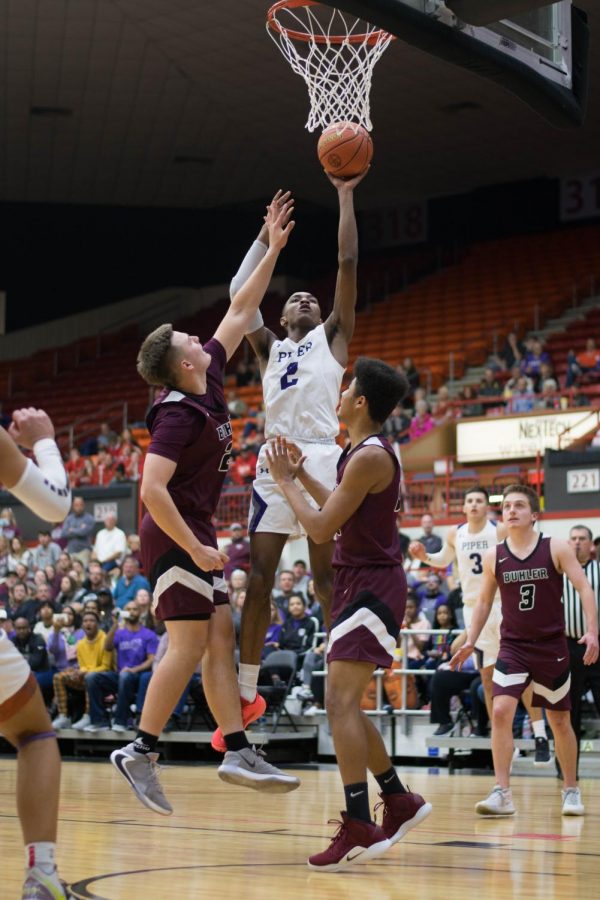 The Last Hurrah: KSHSAA State Basketball Tournament cancelled after first-round due to increased spread of COVID-19
Following the Pirates' basketball team's first-round win against Buhler 71-52, the 2020 KSHSAA State Tournament has been canceled due to the outbreak of COVID-19. 
The Pirates' are the defending state champions and went into the first round with a determined mindset.
"My mindset coming into the game was to do what I do best," said senior Christian Arndt. "I wanted to do everything I could to help my team win the game no matter what the outcome was." 
Arndt started the game off strong winning the tip off.
"I'm used to winning the tip off but it just fed the 'beast' in a way," Arndt said. "Gave me a good boost to the already overwhelming energy I had going into the tip off."
After the end of the first half, the Pirates' were in a tight 33-29 lead. 
"Our mindset going into the second half was committing to getting stops," said junior Tamar Bates. "We knew that was the only way we could build the lead." 
Even with a high-intensity game, the team kept a positive attitude and showed off what they do best. 
"We didn't stress at all," Bates said. "Everyone knew who the better team was and Buhler just came out hot and hit a lot of tough shots, but we knew they could not sustain that for 32 minutes."   
One player that heavily contributed to the team's effort is senior Tyren Shelley. Throughout the game, Shelley led the team in points and was the only starting player to not receive a foul.
"Coming into today I just wanted to play as hard and I could and leave it all out there on the court," Shelley said. "It was great to get the first three out of the way, and it helped me get into the groove early on." 
Following the victory, the Piper student section bled purple and chanted "I believe that we have won." A chant that has become regular for Pirate Nation. 
There was high anticipation for the upcoming game against either third-seeded Bishop Miege or sixth-seeded Andale. 
Little did the Pirates know, this game would be the last game of the season. For some, the last game of their entire high school career. 
"Immediate sadness washed over me once I realized I had just played my last high school game," Arndt said. "I will miss my guys in ways that I can't even express." 
Throughout the duration of the game, news broke that the first death reported from COVID-19, or coronavirus in the Kansas City area was a man in his 70s that lived in Wyandotte County. 
Following the game, KSHSAA released a statement canceling the rest of the tournament after escalating concerns regarding the virus. 
"It's hard to explain my emotions after hearing that news," Bates said. "Just knowing how hard we've worked this year and what we wanted to accomplish. It just has me in shock that something we couldn't control stopped us from playing. It really sucks to know that was the last time I'd lace my shoes up with that special group of guys." 
A brotherhood has formed between the team and they have created memories that will last a lifetime. 
"I'm really just mixed with a lot of emotions," Shelley said. "To put in four months of work with three-hour practices every day that my brothers and I put in together, and to not be rewarded at the end of the season really hurts. A lot of people can say they have won one ring, but not a lot can say they have won two. Our goal was to win back-to-back state championships, and it stings to know that the coronavirus took that opportunity away from us. 
Shelley played throughout this season with an ankle injury but it did not stop him from playing every single game. 
"I played through this season with a lot of pain and was never truly healthy," Shelley said. "This first-round game was the first game I honestly felt good. I love everyone who showed love and support and number 3 out."
Not only was it the Pirates' last game, but every senior's last game. The Lady Pirates', cheerleaders, dancers, and senior fans alike. 
"I would like to say thank you to the piper community for supporting me and my teammates throughout our season," Arndt said. "I also want to thank my teammates for being the great guys they are and just to keep living life the best way they can."
Donate to kcpipernews.com