STAFF EDITORIAL: Strict rules from KSHSAA prevent athletes from performing efficiently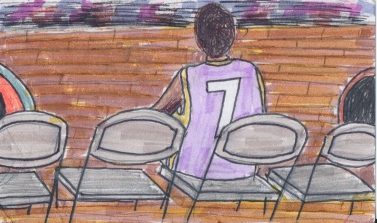 Kansas State High School Activities Association is an organization that oversees interscholastic competition at a high school level, and their rules are getting outrageous. KSHSAA may think their rules are helping student-athletes stay safe but all they are doing is preventing students from competing at their top level.
Every school in Kansas is required to follow KSHSAA guidelines. These guidelines include restrictions on clothing, piercings and many other things. Many of these restrictions prevent players from competing efficiently.
One reason why athletes play on other teams is to stay active with their sport and team when they are not playing for their high school team. Some states are allowed to play year-round with their high school team. For example, Oklahoma is a state that is allowed to play year long with their sport.  However, a rule in the KSHSAA rulebook quotes, "a student who is a member of a school athletic, scholars bowl or debate squad, may not participate as a member of an outside team or as an independent competitor in the same sport." When we play schools who are allowed to practice year round, they have the unfair advantage of having twice the practice time. In Forensics, other states can do Forensics year-round for their school unlike Kansas.
Many students struggle with deciding whether to play for their high school team or club like teams. This is giving the athletes fewer opportunities to get better at the activity they are participating and paying for. State rules should not differ so much even if we play each other. 
Another rule is that private schools can recruit but public schools cannot. That is unfair to the public schools that play against private schools, since they are able to pick their players from a wider pool of students. With there being 449 high schools in Kansas, 393 of those schools are public, and 56 of them are private. It would be best if private schools played private schools or private schools cannot recruit.
Dress code is another strict rule in the KSHSAA rules. Athletes are not allowed to wear any piercings like studs or earrings, or any type of jewelry.  For example, in baseball, players are not allowed to wear chains because there is a risk that the chain could get caught onto someone. Sports that wear shorts are restricted to rolling shorts outward because of the string for safety. KSHSAA states that a finger may get caught in the string and may result in serious damage. In dance, it is a rule that dancers may not have glitter on their face, nor dance barefoot. KSHSAA is full of rules like these that seem to have no real purpose.
With many rules being very strict in the KSHSAA Rulebook, some of these interfere with how athletes perform or focus on unimportant things like which way shorts are rolled. If some rules were lessened that would give the athletes more opportunities to perform efficiently.