School closures raise concerns for low-income families
Following Kansas governor Laura Kelly's announcement for all K-12 schools to close for the remainder of the school year due to the COVID-19 virus, low-income families struggle to provide the same opportunities given at schools. 
According to the Kansas Health Institute, over 48% of students get free or reduced lunches from schools as of 2019. Without these programs, many students may not know where or when their next meal may be. 
"I think that low-income families will probably be okay the first week, then with no school, they will struggle to provide three meals a day where the kids were eating two of those at school," parent Nikole Liles said. 
However, shortly after Kelly's announcement, Liles posted on a Piper community FaceBook page offering food to any families who need it, without any questions or judgment. The post quickly received over 40 comments of other community members offering to help as well. 
"I have been blessed that I have never had to wonder where my next meal was coming from but I know a lot of people who have," Liles said. "I can't imagine as a parent the heartbreak of not having enough food to feed my children. To me, food is a right, not a privilege. I would be willing to pay more if we could just have free lunch for all kids that want it so the stigma would be removed." 
Similarly, teacher Cyndy Detlefson offered free math tutoring to anyone who may need it. 
"I teach eighth grade math in Liberty and when Piper called off school the week before spring break, I knew families would be trying to figure out how they would be homeschooling their children," Detlefson said. "I figured I could help with alleviating some of their stress or anxiety by offering to be available to answer any math questions free of charge."
As schools transition to online style learning, concerns for those who do not have access to necessary materials have also arisen. 
"Then if they are still working, many kids will be left alone due to no childcare. The families that are laid off will have very little income coming in, and if this persists for long enough, may find themselves homeless," Liles said. "If a family doesn't have access to the internet or laptops at home the kids will not be able to participate in school activities that are helpful to keeping learning on track." 
The Piper school district have set up times for Chromebook checkouts, however, as well as meal pick-ups for the time being. 
During this time of uncertainty, Liles hopes anyone who needs help will reach out. 
"As a community, we can make lunches available and identify anyone that we know might be struggling and reach out to them," Liles said. "I am sure it is hard to ask for help but in the end, parents will do what is best for their kids. I am hoping they start offering the bag lunches at the high school again after spring break. If there are kids we know can't get to the school then we will set up a delivery system to get it to them." 
Detlefson agreed, adding during stressful times like these, the community can be so important.
"No one can do everything all the time.  Many families are trying to balance it all and it's tough.  Families are trying to figure out how to keep it all together right now," Detlefson said. "Many are juggling work, child care, education all while being fearful of the unknown.  We have never had to face this magnitude of a pandemic in our lifetime.  Many ways we can support each other is by checking on our neighbors either by a phone call, text or social media message.  We can shop for groceries for the vulnerable individuals in our communities.  We can support local restaurants and catering companies by ordering takeout meals.  We can cheer each other up by sharing funny stories or jokes.  We can show support and encouragement for our First Responders.  If a community bonds together in the tough times, they will bond together in the good times."
About the Contributor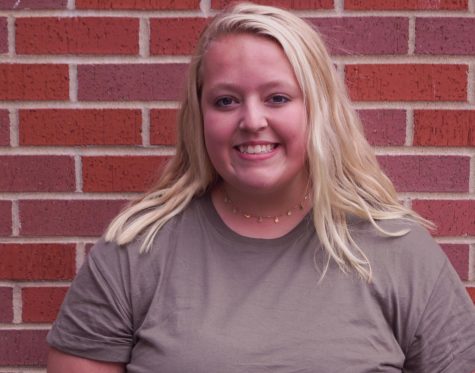 Megan Neal, Print Editor
Megan Neal is a senior at Piper High School. This is her third year on staff and is her first as print editor. Neal participates in Music-n-Motion, and...