2020-2021 cheer team announced
Congratulations to the following that made the 2020-2021 cheer team.
Taylor Sims
Alyson Droppelmann
Taylor Miles
Phoenix Vogts 
Kaycee Scott 
Sydnee Pippert 
Breeze Preu 
Delaney Waters
Aryana Deritt
Charlotte Fee
Mariana Terrazes
Taylor Hinterlong
Alana Crone
Jillian Collier
A'Niyah Coleman
TyJanae Hooks
Ava Ward
Avery Rocellchen 
Emma Williams 
Emily Briggs 
Peyton Duffett
Due to school closures, tryouts were required to occur virtually. According to coach Morgan Kolenda, virtual tryouts were not their first choice but seemed to be the only option. 
"We, Coach Gaster and myself, feel they went very smoothly," Kolenda said. "We sent out the material to all candidates, they had 5 days to learn everything, then they submitted their tryouts individually. We feel that given the circumstances, it was fair and that it went well." 
While tryouts were different then they have been in the past, sophomore Alana Crone found positives with submitting video auditions. Candidates were able to retake videos until they were satisfied with their performance, instead of only getting one chance. 
"It was super different because we had to record videos and send them in rather than just being in front of a judge," Crone said. "Something that was super different was we were able to record them and send them at any time that week, and if you messed up and didn't feel confident about the videos, we could retake them." 
However, having to rely on the videos alone make the process more difficult for some.
"It was kind of scary relying on myself to learn all the material," said junior Taylor Sims. "Typically in regular tryouts you have a mock tryout and not having those critiques from other girls is a little scary."
Crone looks forward to the new season and hopes to be a leader to her new teammates.
"I was in the new member's position last year so I know how scary and overwhelming it can be. I am looking forward to growing as a team," Crone said. 
Despite the change of tryouts, coaches were still looking for the same skills in candidates that they have in previous years. 
"We were looking for sharp motions, confident voices, on tempo, and a presence that got us excited," Kolenda said. "A goal for the upcoming season is to never stop improving. We'd like to try some new pyramids and stunts, but it's more than that.  Overall we want to be an even better squad as a whole, whether it's game day or competition. We want to surprise ourselves."
About the Writer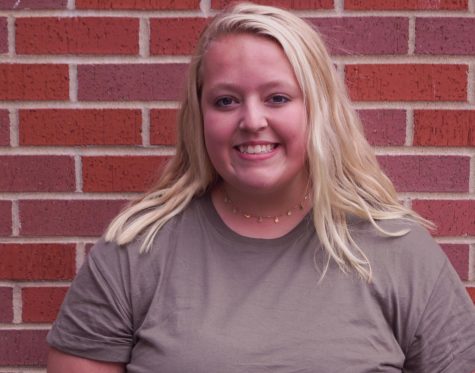 Megan Neal, Print Editor
Megan Neal is a senior at Piper High School. This is her third year on staff and is her first as print editor. Neal participates in Music-n-Motion, and...