XC Runner makes history
For the first time in Piper's Cross Country history, there has been a runner that has placed in 5A state. The name of the runner is Grace Hanson.
Grace Hanson is a sophomore Varsity runner on the Cross Country team, while also doing Track and Swim. Hanson is the first runner to ever place in a State meet for 5A in Piper. In the meet, Hanson had placed 6th place. The state meet was held in Augusta, Kansas.
"I was very excited about placing in the state meet because I knew that I was running against the best runners in the state," said Hanson. "I was pretty happy with how I did at state. My goal was to be top 10 and to make All-State, but I would've liked to be top 5. I think I could have done a little better if not for the wind and how nervous I was before the race."
Before a meet, Hanson always likes to eat pasta. If she has morning races, I eat pasta for dinner and will usually have a peanut butter Clif bar for breakfast. When she races in the afternoon she eats pasta for lunch and tries to have a quick snack like trail mix or peanut butter crackers before a race.
Not only did Hanson place in state, but she also is a regional champion. The regional meet was held in Topeka.
"I was very happy with my performance at regionals," said Hanson. "The regional course was a great course and running that race was the best I felt physically all season. It's also just always a ton of fun to get to run with all the other varsity girls and hang out with them before races."
What motivates Hanson to do better are her teammates and coaches, but mainly herself motivates her. Hanson says that she is hard on herself and that is what helps her and what betters herself.
During the off-season, Hanson swims, runs on her own, and runs competitively with the Brocaw Blazers. The Brocaw is a youth-organization with a Track and Cross Country team. Hanson enjoys running recreational 5ks in the area as well. 
To get where Hanson is today she had to do a lot of training in practice, including things like running hills and 400 repeats. Hanson's best time this season was 18:59, which is nine seconds off from her personal best. The fastest time Hanson has ever ran was 18:50 at last season's league meet. 
"I plan to run Cross Country all 4 years of High School," said Hanson. "But I haven't given that much thought to what I will do in college. I'm more focused on the improvement of myself and the team than anything else right now."
About the Writer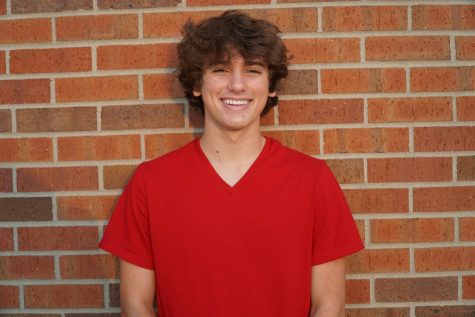 Adam Novak, Sports Editor
Adam Novak is a junior at Piper High school and this is his second year on staff. Novak participates in soccer and newspaper and his favorite food is PB&J....