Piper alumni grows business with support from students
Since discovering a love for cutting hair, Dameon Weathers is on a successful path to owning his own shop. With inspiration from his mom, he decided to take a deeper look into becoming a barber.
 "I desire to one day purchase a shop of my own," said Billion Hairs Salon owner Dameon Weathers. "Being an entrepreneur has been my dream since I found out what it was, but I stumbled upon this occupation, it kind of just happened," said Weathers
After completing over a year of training with 1200 hours, Weathers was able to open Billion Hairs Salon on July 9, 2019. 
"I attended Headlines Barber Academy in August of 2019, it took me a year and two months to complete 1,200 hours. The course is 1200-1500, but they felt I was ready to leave early so I graduated at 1200 hours," Weathers said.
The hunger to improve motivated Weathers to finish his training at the top of his class. After graduation, he was spending every free hour learning how to sharpen his skill.
"His progress has come a long way, at first it seemed like he didn't have too many clients," said client and senior Camaro Scott. "He took advantage of using Snapchat to show off his skills and people started pouring in."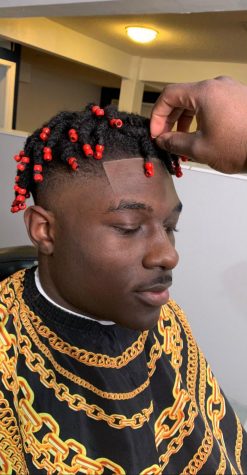 Finding clientele has been Weathers's largest adversity in growing his business from the ground up. Like many small businesses selling the whole package is crucial for success
"When starting out in this field the hardest thing you'll face is finding clientele and maintaining them, even if your work is great that's not good enough," Weathers said. "You have to sell yourself to your customers with your personality,"
With a big future in mind, Weathers hopes to become a celebrity barber and buy his own shop. 
"I see myself doing other things on top of this to reach the income I desire to one day purchase a shop of my own, I'm looking forward to moving to Texas soon and gaining a huge clientele and hopefully being able to raise my prices," Weathers said.