Lady Pirates Soccer off to Explosive Start
After losing last season to COVID-19, the Lady Pirates soccer team is making a comeback. The team is 6-1 this season and they aren't planning to slow down anytime soon. 
"We're performing really well," said senior Lexi Miles. "We have only lost one game so far. Going into the season I knew we would be good and we have a lot of underclassmen that are pretty good."
To start their season, the Lady Pirates played a total of four games in seven days. Senior Emma Hawley says that her body wasn't feeling too good after playing so much. 
"My body was out of it for a little while," Hawley said. 
On the contrary to Hawley, sophomore Ryann Clark states that the conditioning the team had been doing prepared them well for the games. The team ran sprints, played team scrimmages, and performed other drills to prepare for their upcoming games. 
"We take our conditioning seriously and we were prepared for the games, so we recovered well," Clark said. "It is always great to have such a good trainer to go to."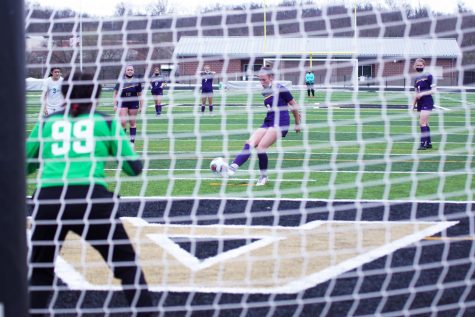 Preparing for a new season can be tough depending on how the offseason is spent. Playing other sports or playing on club teams can be beneficial to keeping the body in shape. 
"For a lot of us there is no offseason and we play soccer or another sport all year round, which is very beneficial when we get to the high school season," Clark said. "I play soccer all year long with my club team as well as high school basketball."
Injuries in sports are pretty common and Miles has been going through one recently. Miles tore her ACL last year and is still awaiting her clearance. 
During the games, Miles has been cheering on the sidelines and preparing for her time on the field.
"I definitely consider myself a hype man on the sidelines," Miles said. "I'm always cheering people on and giving the freshmen and sophomores the confidence that I wished I had my freshman and sophomore year. I try to be extra positive because I know that on the field things can get frustrating and it's always nice to hear a positive and uplifting thing."
The team's chemistry is something that has been one priority for them. They strive to work together and support each other through it all. 
"My hopes are that we continue to build our chemistry, we are a great team," Hawley said.