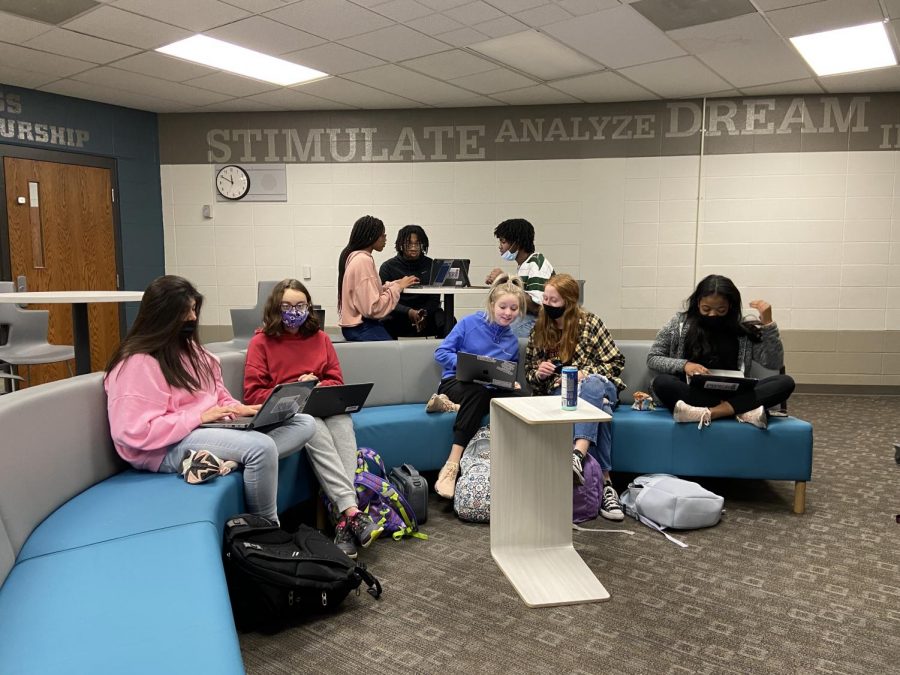 Audrey Menzies
Among other things discussed during the Nov. 8th Piper school board meeting, one of the most talked about is the unanimous decision to make masks optional for all high school students. This decision is followed by many mixed reactions from students as well as teachers. 
Sophomore Layla Blankenship is immunocompromised so a mask optional environment could possibly be very dangerous. 
"Honestly I don't feel good about masks being optional," Blankenship said. "COVID-19 is still affecting many people in a very bad way. Just because numbers are lowering, that doesn't mean we should stop wearing masks."
For senior Konnor McDaniel, however, this decision brings lots of joy and feels like a step in the right direction towards true normality. 
"I feel great about it," McDaniel said. "I'm glad that the irrational people who thought that vaccinated high schoolers were somehow going to drop dead if someone didn't wear a mask in school have been defeated and that a taste of normalcy can finally be achieved for my senior year."
While making the decision, school board president John Bakarich III described the many variables that went into their decision. 
"Numerous factors surrounding COVID and specifically masking have been discussed and debated by the School Board for many months," Bakarich said. "With that said, there are too many to list all, but the main criteria utilized to make our decision was: community input, staff surveys, the data of positive cases in our district each week, the daily challenges endured by the staff and students, social emotional well-being, other mitigation measures in place and that everyone at PHS is now eligible to receive the vaccine."
Teachers are also faced with the important decision of whether or not to wear a mask to accommodate the students that may not feel comfortable. 
"If I have to go up to a student to help them with something for class I have no problem putting a mask on to work with them," social sciences teacher Matt Reitemeier said. "Anything that I can do to help students feel safe and welcome in my class I will do."
While making their decision to mask up or not, many students were considering the vaccination rates at the high school. 
Vaccination rates of Piper High School cannot be found online, and when KC Piper News reached out to nurse Meghan Leduc, she declined to release the data. Though individual vaccination rates are anonymous, state rates are public which can be found on Mayo Clinic's website. 
Bakarich stated that the board did not have the vaccination rates of the high school into account while making masks optional.
"I do not know the vaccine rates regarding our students, nor should I," Bakarich said. "Choosing to receive the vaccination is a very personal medical decision and one I believe should be protected with utmost privacy.  While this did not play a part in the decision to make masks optional, it did play a critical part in determining the quarantining options. By treating all staff and students who come in close contact the same, regardless of their vaccination status, it helps to eliminate discrimination or any destruction of inclusivity."
For many, having the vaccine provides comfort despite not having the data. 
"I'm fully vaccinated and if someone wants to take the risk of not being vaccinated then they don't need to be protected from their own decision," McDaniel said. 
While things may never be back to normal, many see this as a step in the right direction. 
"I don't know if things will ever be 'back to normal,' Reitemier said. "Many things have changed and will never be back to normal, such as the way people go to work.  Many Americans work from home now and will never set foot in their office again.  Never in a lifetime did I anticipate as a teacher that I would be teaching school from home, but I did.  However in terms of trying to resume life during and after a pandemic, this is a step back to normal."