Community reacts after Head Football Coach is Let Go
The saying "Piper wants Pollard" and "#bringbackrick" has been circulating the community after beloved varsity head football coach Rick Pollard was fired by the school Board of Education due to unknown reasons on Dec. 14, 2021. 
This came unexpectedly to players as Pollard led the team to a 7-4 season and a Regional championship, which has not been accomplished by the Pirates since 2014. 
Senior and member of the players council Brody Lanter, which is voted on by teammates, created a petition titled "Piper wants Pollard" in hopes the school board rethinks their decision. 
"My immediate reaction after I found out about his firing was to find out if it was true or not," Lanter said. "When I found out, I was very upset to see my coach of multiple sports and a huge mentor in my life lose his job that he loved." 
As of Thursday, Dec. 16, the petition has 927 votes. 
The day before the announcement, on Monday, Dec. 13, the team held a banquet after their successful season where Pollard gave a speech for every player on the team. He has been described as the "heart of the team" by his players, making the firing very difficult for them to accept.
"We have so many kids that come from all sorts of backgrounds, and that didn't matter to him at all," said senior quarterback Logan Ladish. "Coach was always there for whoever needed something and put others before himself."
Pollard was recently chosen as one of the coaches for the 2022 Kansas Shrine Bowl, representing the 4A class on the East side. State championship coaches are usually the ones selected for this honor, but St. James coach Tom Radke did not accept the invitation.
Former Piper player and 2021 Tonganoxie graduate Brandon Martin transferred his senior year due to Wyandotte county COVID-19 restrictions. Pollard was Martin's coach for three years prior to his transfer.
"All coaches have different ways in coaching, and I loved both Tonganoxie and Piper coaching staffs," Martin said. "I felt coach Pollard did a great job at making a strong relationship with his players."
Piper alum and former quarterback Dalton White commented "Coach Pollard was a great coach and gave me the best senior season I could've asked for. Stop being soft and let him stay!!!" on the petition. 
However, not all students feel the same about Pollard. According to sophomore Andrew Bond, he would have been playing football the last two years if it weren't for Pollard's coaching style. 
"I decided not to play football because I did not like the way he carried himself on the field and how he represented the school," Bond said. "But, I think firing him was a little uncalled for because he is what brought the football team together, he is what brought them to success and for them to fire him is a little frustrating."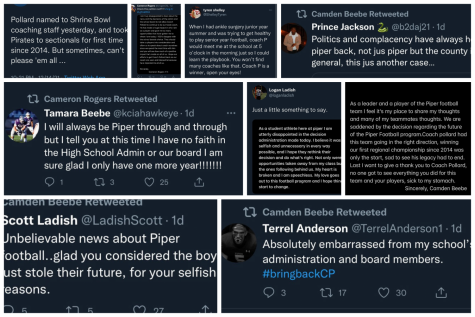 According to Ladish, players went into athletic director Dr. Taylor Mapp's office where he was reluctant to comment after they demanded answers. When the Pirates' Log asked Mapp for comment, he declined to answer.
Business teacher and one of St. James Varsity football coaches Brian Gray stated that there are a lot of details that cannot be shared to the public regarding the decision. When asked to comment, school Board of Education president John Bakarich III did not respond. 
"I would tell the school board to take a look around at this community and how much support Pollard has," said junior lineman Camden Beebe. "How he has this team going in the right direction, all that work and all that effort the coach put into this program down the drain. We just want to know why."
 Players and community members are writing on social media their outrage for the decision. 
According to Lanter, the players plan to continue to fight for Pollard's reinstatement as coach as they are holding a "peaceful assembly" Thursday, Dec. 16 on the football field. Due to legal reasons, Pollard is not allowed to comment on the decision.
"Unfortunately, I am unable to speak about what is going on," Pollard said. "Just know that I care for all of my players and will continue to support all of them in any way I can."