District Prepares to Vote on Bond Issue, Jan. 25
Voting day for the bond issue is a heavily anticipated day for teachers, parents, students, and community members alike. For many students, they look at it as a day that determines the future of their school and education. 
"I think that the bond will affect me in many different ways, but I think the biggest way is the learning environment," said freshman Jack Bakarich. "If the bond were to pass the classrooms all over the district would be less crowded which gives the student and teacher more possible one-on-one time. This will lead to better learning for me and my fellow classmates."
The proposed $64 million bond may raise community members' taxes, but junior Brylie Reese believes it is detrimental to our schools and teachers' future that it passes.
"I think that honestly it is terrifying to think about our school if it does not pass because most likely we will have to add more learning modules to our campus, and I think that will severely impact the quality of education that Piper can provide," Reese said. "I also know it will place a strain on our teachers who are already stressed out from the transition from an online school."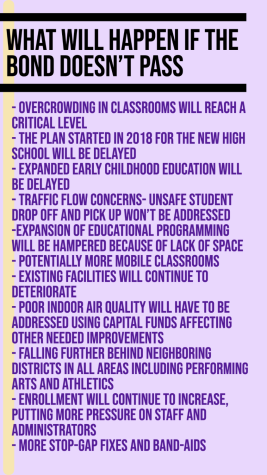 This bond not only affects the quality of education students receive but also their sports, extracurriculars, and commute to school daily. 
"The bond won't affect me personally as much as it will affect my community, and if it doesn't pass I worry about the future of the Piper School District," Reese said. "The bond issue will affect the district from basic traffic flow in the morning to sports arenas for the school's sports teams. It will also support the growth of Piper."
The district has been holding town hall meetings with the hopes of answering community members' questions surrounding the bond. 
"Our hope in hosting these town halls is to be transparent and communicative with our Piper community and encourage them to vote on Jan. 25," said superintendent Dr. Jessica Dain. "As a district, we cannot tell voters how to vote, but we can share with them educational materials such as our capacity issues, our issues with deferred maintenance, finance, and tax implications questions, and share our plans to address our issues if the bond would pass."
Disappointment would be a very common feeling for students if this bond does not pass. 
"I would be extremely disappointed if it didn't pass, because it's something that Piper definitely needs," said Addie Walker. "The school district keeps growing, and we don't have room for the people that are here already."
Bakarich also describes his feelings of uncertainty if the bond does not pass. 
 "I would be very upset if it didn't pass," Bakarich said. "As a community, we badly need a new school," Bakarich said. "Our high school has reached capacity and something has to be done about it. I just hope that most of the citizens of Piper feel the same way."
Unfortunately, even a bond of this size cannot solve every issue the district is currently facing, describes Reece, but hopefully, this will be the beginning of helping Piper reach its full potential.
"I hope that this helps with the growing pains we are experiencing now, but I also hope it paves the way for future bond issues when other problems arise," Reese said. "This isn't a one-time problem we can solve with one bond issue, this is simply a step in the right direction."