Piper USD 203 prepares to implement $64 million bond
After a 1307 to 813 vote, the district passed a $64 million bond on Tuesday, Jan. 25. The bond, which was approved by the Board of Education on Monday, Aug. 30, 2021, will create significant improvements to every building in the district.
According to superintendent Dr. Jessica Dain, the first step to renovation will be interviewing construction companies to establish a time frame on Feb. 1st.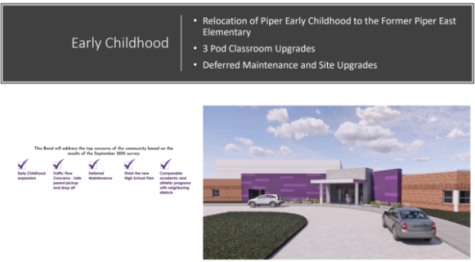 "I haven't really slept much since we came back from winter break," Dain said. "Last weekend, my stomach was in knots, and I was actually dreaming about the bond when I was able to sleep. That morning I woke up and just felt really excited for the Piper Community to get out and vote."  
Out of 10,176 eligible voters, 2120 voted to make the voter turnout rate 20.83%. Some of those voters included seniors who were 18 and registered to vote by Jan. 4. 
"I am so thankful for the community members who exercised their right to vote," Dain said. "I am just so incredibly proud of our community, including the Piper High School kids who helped us campaign and those who were old enough went and voted."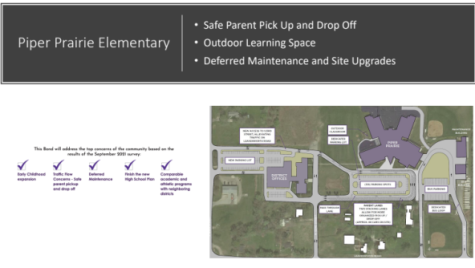 The class of 2025 will be the only class in the high school currently to receive the benefits of the Piper Creek Elementary building, which will be renovated into the new high school. 
"Besides having more space, the new school will provide a better learning environment for us students and can possibly have a big impact on our community if we utilize the space," said freshman Frances-Faith Obiesie. "I was really surprised when I saw that the bond passed, but I am really excited."
Obiesie, who is heavily involved in extracurricular activities, hopes that the bond will help create more opportunities for all clubs and activities."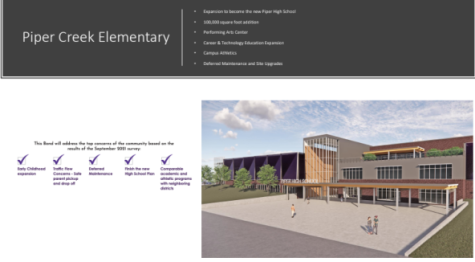 "I'm hoping we no longer have to travel to a separate building for classes and that it fixes the overcrowding issue because Piper will only continue to grow in the years to come," Obiesie said. "I also hope that the new school provides more room to accommodate our clubs and extracurricular activities."
The bond will not only impact the students but staff members as well. Many teachers like business teacher Brian Gray were looking at different jobs in the instance of the bond not passing. 
"It's funny because I think some teachers just love being here anyway, and our kids are great, so they didn't really care about this as much as others, but the fact that we get new facilities on top of that is amazing," Gray said. "We should get the hope that more families and more rooftops will be here."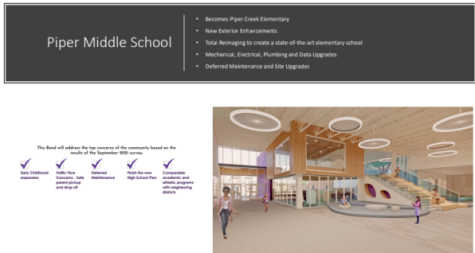 Gray, who coaches football at St. James Academy described the difference in athletic facilities between the two schools.
"Coming back to coach against Piper and looking at our facilities, I realized that this was like a 2A building," Gray said. "St. James has amazing press boxes and amazing stadiums, so coming back home I just thought 'oh my gosh, I can't believe we thought this was a big deal.'"
All renovations are expected to be completed by August 2024. According to Dain, every building, student, and staff member will benefit from this bond.
Additionally, the bond will provide opportunities to help further the Portrait of a Graduate competencies, which are communication, problem-solving, creativity, self-direction, social and emotional well-being, and cross-cultural skills.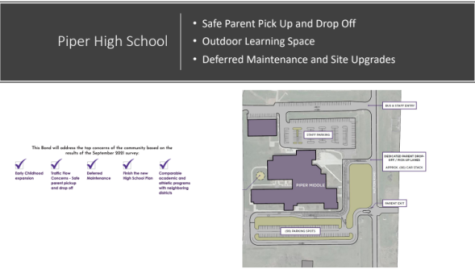 "I think this will help us with our Portrait of a Graduate and real-world learning lessons we are trying to do," Gray said "It is huge for us to have all of those facilities in one building."
The timing of the next expected bond will be dictated by enrollment numbers. According to Dain, the projected enrollment is 2026, but if the growth expands, the next bond will have to be sooner.
"This doesn't just impact the football players, this doesn't just impact this team, it impacts all of us," Gray said. "It is a big deal, and it's definitely going to be a place people talk about."