Under the Lights: New Head Football Coach Set to Begin at Piper
On Dec. 14th, 2021, former head football coach Rick Pollard was fired. Since then, the district has been searching for that "perfect" fit. 
The hiring process involved reviewing applications and interviewing over 20 applicants. 
"We were looking for someone who is a good leader, has high morals, head coaching experience, and a track record of proven success," athletic director Dr. Taylor Mapp said. "I hope the new coach can bring this program to a new level of success and also brings the community to be more involved within the program."
On March 7, 2022, it was announced via. Twitter that Piper alum John Black had been hired as the new head coach. 
"It was kind of almost melancholy seeing a new head coach hired," said freshman Jack Bakarich. "It's extremely exciting but you're also almost kind of anxious about what's going to happen next and how the upcoming season is going to go."
Prior to his current coaching job at Independence High School, one of Blacks' first coaching positions was in Piper. 
"I think it's a really good feeling knowing my future coach has not only played but has also coached for Piper," said junior Logan Ladish. "He already knows how the people are and how our community is so I'd say he will get used to it again pretty quick."
While excitement is in the air, many players like junior Camden Beebe hopes to keep some "classic" Piper football traditions. 
"I hope the new coach doesn't change a lot of the traditions and culture we have within this team," Beebe said. "I mean I've been playing with a lot of my teammates since before we can even remember so I know we have a really strong foundation of brotherhood and want to continue on the path we're going."
Black is filled with gratitude knowing that he is returning not only to a school he has previously coached at but also to the one he graduated from.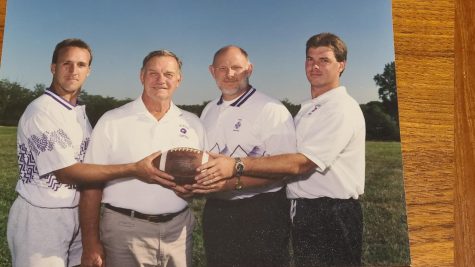 "I feel like it's kind of a God thing for me," Black said. "I wanted that job when I was coaching there. So to finally make it back, you know, it's crazy. I think it's it's just a dream come true that all of it has happened the way that I've needed it to happen for my life to go the way it is."
Black is optimistic for the future of Piper football.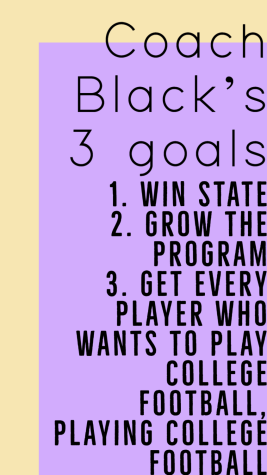 "The number one thing is I like to grow every program I've been to," Black said. "I've always taken programs that have been really down and built them up. I like to grow numbers because I really believe in every kid no matter what ability level they are there's a place in football for them and I want them to have the life skills that I'm going to teach in football. The other thing is the dream that's been elusive to me as a state championship. I've had a couple of teams that I really thought were going to be in the state championship game and something would come up.  But stepping into Piper where it's at right now that we have a lot of great things happening so that's my top goal for our team. I also want every kid to play college football that wants to play college football."
Black hopes to also teach lessons past football. 
"I want the kids on my team to be some people that everybody looks to in the town and says 'those are good kids'," said Black."I also want to teach them life lessons. I think when they're done with football,  even if they made it to the NFL, they're still life after football. I want a better life for every one of these kids."
Black's coaching motto is  to"get better every day" no matter a player's skill level.
"I just want a kid to get better," Black said. "I don't care what level they are. They could be the worst player on the team, but if every day they're getting better, I'm praising them, even though they're not as good as their teammate."
Black wants his future players to know that he will be giving his all into the program.
"I work hard every day," Black said. "I truly care about kids and I will give them 100% of my best effort every single day. I don't have bad days. If I have a bad day. Nobody else was gonna know about it. I just want to know that. Let them know that I care about them and I'm working for them."