Student council projects require more than meets the eye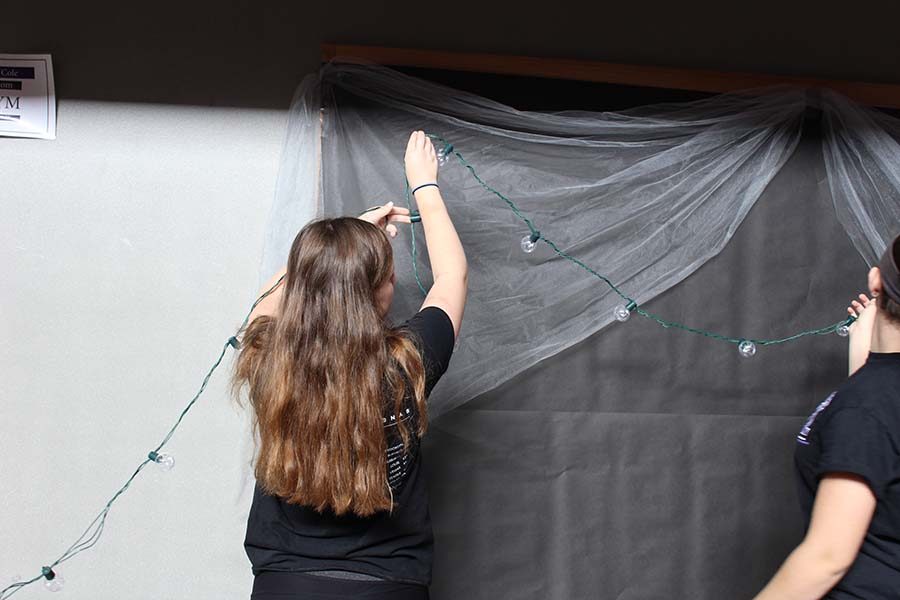 Students walked into the commons area on the night of Homecoming and saw it decorated elegantly with lights and tulle. Most weren't thinking about the StuCo members who had been there from 8 to 11 a.m. decorating the commons.
Student Council is known for projects like school dances, freshman orientation and organizing blood drives.
Representatives and officers are the ones who decide on the dance themes and spirit week days.
To decide on a theme, StuCo first brainstorms ideas. After brainstorming, the choices are narrowed down to five. They then vote for the theme they would like.
Sophomore Chase Bundy said that it was easy brainstorming dance themes since StuCo members are all creative, and that the real challenge came when it was time to decide on spirit days.
Another thing that StuCo does for the school that some may not know about includes running freshman orientation. Members organized activities and gave tours to freshmen and new students.
StuCo members also wipe down tables after every lunch period.
StuCo tries to do a project every month. Planning projects is made easier by having a StuCo seminar.
This makes communication easier because they can make decisions more quickly with a show of hands.
One event that StuCo has coming up is the Pied Piper Pumpkin Patch. StuCo will partner with other clubs and organizations to run the event.
Junior StuCo representative Sophia Frick said that she likes the Pied Piper Pumpkin Patch because interacting with the district's younger kids puts a smile on her face.
Overall, StuCo is busy with projects and working to improve the school throughout the year.
"Even though it's pretty stressful, once you see things done it's really worth it," StuCo co-president Gisselle Contreras said.