Cheer team dominated by underclassmen sees the positive
Hang on for a minute...we're trying to find some more stories you might like.
As the year progresses, school spirit is on the rise. However, Piper pride is not the only thing that is growing. The size of the cheer team has increased by 10 girls since last year, when there were eight cheerleaders.
"It makes a much greater impact on the sidelines," second-time cheer coach Megan O'Boyle said. "We are so much bigger, and if there's more girls leading the crowd, more people will be apt to participate."
O'Boyle also said that communication has become more difficult with a higher amount of cheerleaders. More time is needed to learn routines as well, but it has not been too difficult of a transition in general.
"I have always thought you should have a big cheer team. It's more my decision as a coach. More cheerleaders mean more school spirit and more people involved. It just makes for a better overall show and experience for everybody," O'Boyle said.
While O'Boyle has been cheering since she was five years old, participating in different levels of the sport from youth to high school cheer as she grew up, not all of the cheerleaders have the same experience. For some, this is their first year participating in cheer. Despite this, they share their coach's enthusiasm.
"I started to do tumbling at a place named Byrd's and I just really felt like I would do good in cheerleading. It was really nerve-wracking at first, but I decided to do it just because," freshman cheerleader Eryn Cox said.
Like Cox, freshman cheerleader Emma Turley had no previous experience with cheerleading. Turley decided to join the team because she saw it as an opportunity to get involved.
"I love it," Turley said. "It's one of my favorite things to do now."
Although Cox has not been cheering for long, she said that she feels like she has joined a family. "It's really great," Cox said. "I'm just glad that I didn't chicken out."
This year, the cheerleaders will be performing at every basketball and football game, three soccer games and all of the pep assemblies.

About the Contributors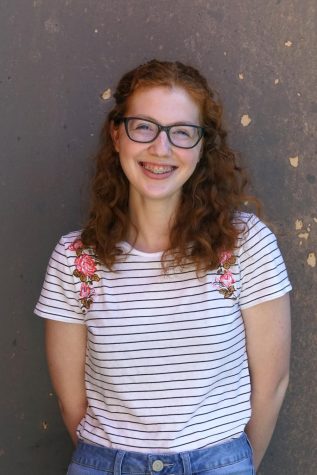 Lauren Textor, Editor-In-Chief
Lauren Textor is a senior at Piper High School and this is her fifth semester on staff as Co Editor-in-Chief. She participates in Key Club, Scholars Bowl,...
Hannah Pappert, Photo Editor
Hannah Pappert is a senior at Piper High School and is on her third year on staff as Photo Editor. Pappert participates in softball and has a dog that...