Apple's new iPhone reveals changes in design, software update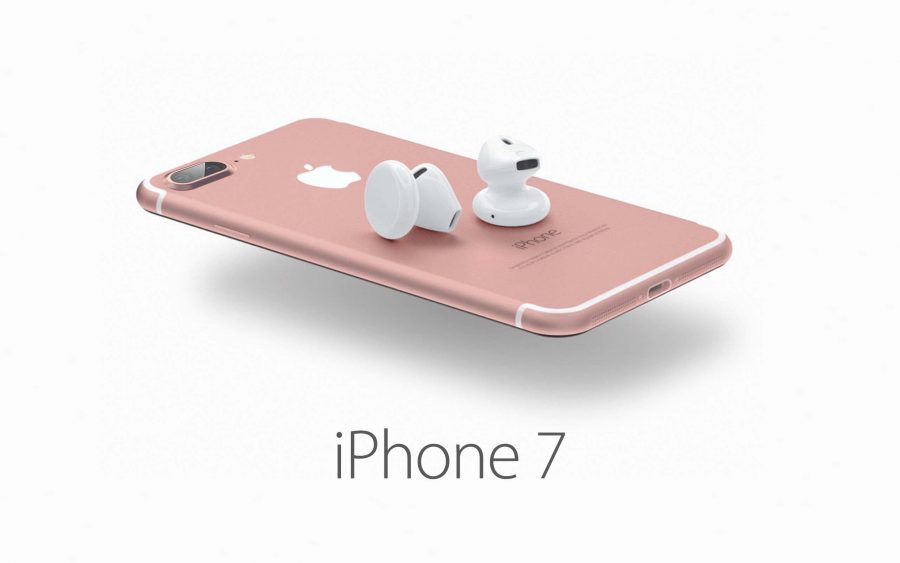 Many eagerly await the release of a new iPhone every year from tech giant Apple. This year was no different. The iPhone 7 was released in September with a few noticeable changes from the iPhone 6s.
One major change that has people buzzing is the removal of the headphone jack. Apple's earbuds that are included with the purchase of the phone must now be used due to the lack of a headphone jack. The problem with using Apple's earbuds is that they now plug into the same port as the charger, and it is no longer possible to charge the phone and listen to music at the same time. For $159, Apple's new wireless earbuds, AirPods, can be used too. AirPods will be released in late October.
Some students don't understand why Apple removed the headphone jack.
"It doesn't make sense," freshman Ariana Textor said.
Apple isn't only removing features; the company is adding them as well. The iPhone 7 is dust and water resistant. It can be submerged in a meter of water for up to half an hour. After being exposed to water, the phone will need to be dried off before being used or charged again.
A shiny jet black option has been added to the color lineup. However, the jet black phone is prone to scratches and shows fingerprints more clearly. This color was added to a lineup of colors that includes rose gold, silver and gold.
With the release of the iPhone 7 and the iPhone 7 Plus came iOS 10. The new software update has several new iMessage features that include the ability to send a message in the user's handwriting, send a message in invisible ink and replace words with emojis.
iOS 10 also allows Siri to work with apps. Maps makes suggestions as to where the user is likely to go, and informs the user of the fastest way to get there. The user can see what is on the route, such as food and gas, and Maps adds the extra time to the route.
The new software update is favorable with students, and seems to be more popular than the removal of the headphone jack.
"I like iOS 10," sophomore Avery Cahill said.
The software updated the process of unlocking the phone as well. Now, the user has to click the home button to be taken to the home screen instead of it automatically unlocking once the fingerprint scanner is used.
"I don't really like the way you have to click the home button to unlock your phone," Cahill said.
The software update and the new addition to the iPhone family have brought changes to the way that users can utilize technology. Only time will tell if the iPhone 7 and iOS 10 will be popular with students.