Golfers take sixth at state
Girls maintain tradition and make memories with Oct. 17 trip to Hesston for the team's fifth consecutive state tournament.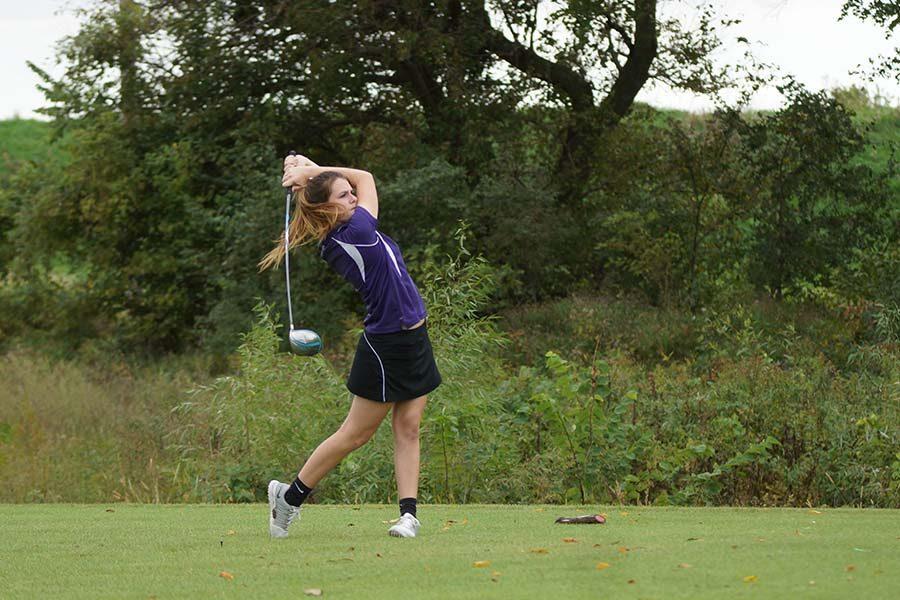 When some people hear high school sports mentioned, they think of football, volleyball or basketball. A sport that isn't in the spotlight as often is golf.
The girls' golf team had a successful season this year. They received sixth place in state after placing second at regionals.
"The team has done very well overall, and we have earned a respectable ranking amongst the other teams in our division," junior Reiley Kirwan said.
To some, golf may not seem like a challenging sport.
"Golf might seem easy, but it isn't," sophomore Anh-Dao Do said. "It takes up a lot of emotional, physical and mental ability. It took me a while to manage them all."
Golfers must maneuver tricky plays and work to perfect their swing. Having a good game in golf can mean anything from getting a good score to accepting healthy competition and challenges.
"I believe that it's whether you improve or not, and that is what determines if you have a good game," Do said.
Some golfers said that Spring Hill is a common rival due to similar averages. Do said that the teams are friendly until they get onto the golf course.
The team was successful this season, placing first at two tournaments, including the Piper Invitational. They placed third, fourth and fifth in additional tournaments.
The overall team score for state was 379. Do placed 18th, sophomore Brooklynn Lamberd placed 34th and junior Jessica Hutchings tied for 44th place with Kirwan. Additionally, senior Josie Jones placed 64th and junior Mary Rogers placed 77th.
According to Do, the team's success was due to luck, hard work and the bond the team shared.
About the Contributors
Hannah Pappert, Photo Editor
Hannah Pappert is a senior at Piper High School and is on her third year on staff as Photo Editor. Pappert participates in softball and has a dog that...